Native Hunt Goes Green
Written by: Phillip Loughlin
For Immediate Release - 06/01/08
Native Hunt® Goes Green!
Jolon, CA - Kermit the frog was wrong! It is easy going green, as CEO T. Michael Riddle, and his crew at NativeHunt® are out to prove. The efforts currently underway include a move to electric vehicles, utilizing solar power to generate electricity for field appliances, adoption of environmentally friendly planting in the grain fields, and more.
Bad Boys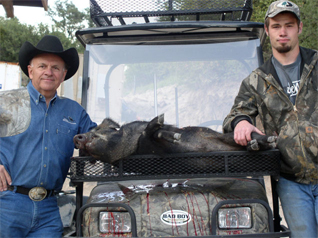 On Memorial Day weekend, Native Hunt® received their first Bad Boy Buggy, an all-electric, 4-wheel drive utility vehicle. This is not your grandfather's golf cart! The Bad Boy features dual electric motors, a lift kit, and some serious off-road tires. Not only do the electric motors provide plenty of power and a very quiet ride, the fact that it's electric means less reliance on gasoline, cheaper operation, and no emissions to stink up the clean, central coast breezes.
For now, the Bad Boy is in addition to the current fleet of trucks and Polaris Ranger UTVs, but if these vehicles work out as well as expected, Michael plans to replace the gas-powered vehicles with these eco-friendly buggies.
Power From the Sky
With the lodge's remote location come certain complications. One of these is providing electric power, both for the lodge itself and for the field facilities, such as water pumps and wells. Currently, a propane generator provides electric power to the lodge, but Michael plans to move away from that noisy system as soon as possible. He is looking at options, but thinks a solar array can provide enough juice to run the lights and electric appliances for the lodge and outbuildings. Smaller solar chargers and batteries can be used to provide electricity to remote equipment as well.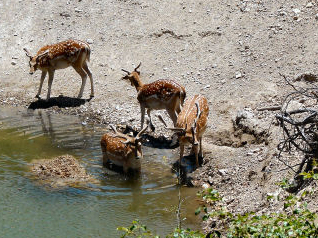 There's another plentiful and clean resource up in those hills... wind. With a couple of nice, high hilltops on the property, Michael thinks it's possible to generate enough electricity to augment a solar array and become totally independent of fossil fuels for all of his electrical needs.

Next time you visit the ranch, don't be surprised to see a windmill or two churning the air, and enjoy the luxuries of the well-appointed lodge without the roar and rattle of a generator drowning out the natural soundtrack.
Greener Pastures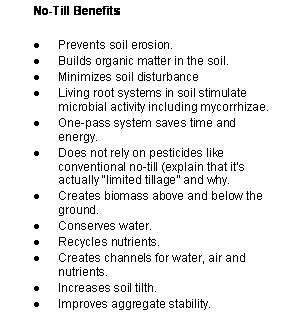 In order to provide proper nutrition and a good food source to the wildlife on the ranches, Michael and the Native Hunt® staff plant various grains, like barley and safflower. The rocky ground and arid climate don't lend themselves to traditional farming methods, and noxious weeds tend to take over whenever a property is put under cultivation. To control these invasive plants, most modern farmers use various chemicals. Repeated use of these chemicals can damage the soil and also permeate the food chain.

Native Hunt® has found a way to reduce the impact of the farming efforts by adopting "no-till/no-pesticide" agricultural practices. There are several benefits to this method of farming, and when combined with certain natural herbicides, presents an environmentally safe and healthy crop of food, both for the exotics and native species.
What Else is New?
Keep your eyes open for the foundation of the American Wild Boar Association, as Native Hunt® and several other members of the hog hunting community kick off an organization dedicated to the preservation and promotion of wild boar hunting across the country, and around the world.